Posted by Deneen Holder on 28th Apr 2014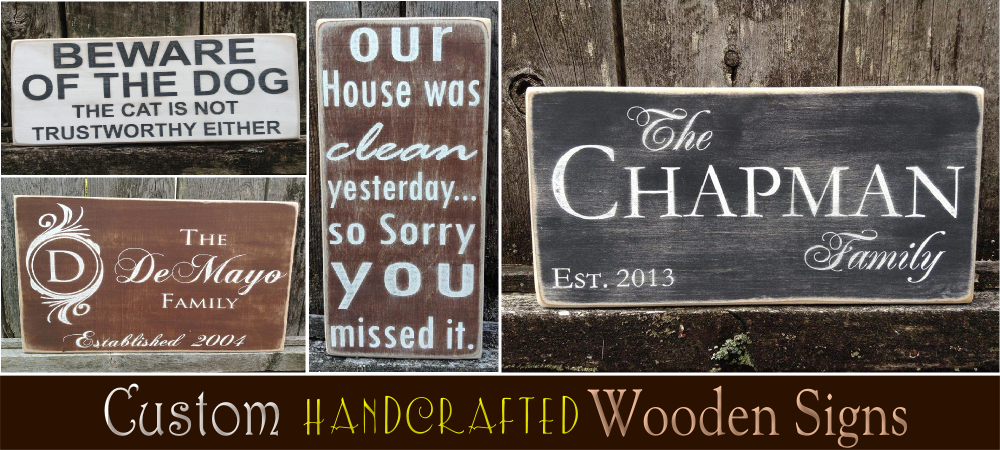 I love words that evoke positive emotions. I really love words that remind me what is important, and that give honour to the people and things that I value. That is probably why I love decorative signs for the home and why we jumped at the chance to offer wooden signs to our customers. They are made from 1/4" thick birch plywood and include a saw-tooth hook on the back, so it's ready to hang anywhere in your home. Signs make unique gifts that can be thoughtfully chosen for just about any occasion. We have helped customers design custom signs for their businesses using their business logo as the main graphic. Some customers have delighted their relatives with a beautiful custom sign for their storefront or a special sign for their cabin with symbolic words or graphics. We love getting feedback from our customers after their special gift has been received with joy.
We also sell personalized signs for families. I love these. I think they are my favourite. In fact, to commemorate our 16th wedding anniversary, Curtis and I had an 12 x 24 family establishment sign made for our living room. It features our last name, our first names, the names of our children, and our wedding date. It is really special to me because we are always trying to think of ways of building family identity with our children. In this day and age where divorce is more common than permanency in marriage, we want to let our children know that we are not going to be one of the statistics. For me, this sign symbolizes our lasting commitment to each other and to our family. For couples who are just getting married, or who have not finished having children yet, family establishment signs can be made with just their last name and their wedding date.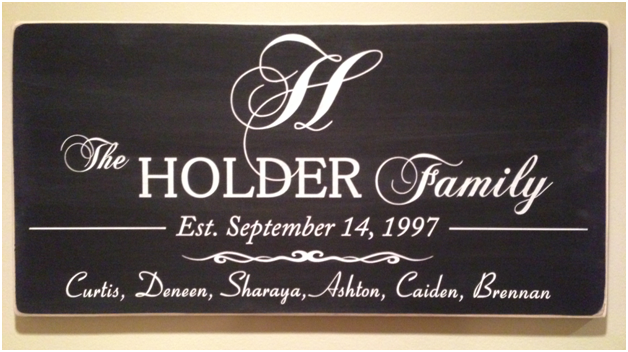 There are several different designs you can check out here. They come in different sizes, can be painted in several different colours, and favourite fonts can be chosen for a truly personalized sign. They make wonderful wedding gifts or anniversary gifts. For baby shower gifts, a really popular choice is our personalized baby name signs. It is fabulous way to welcome a new life and celebrate all the details that make this new little one so special. Each one can include any information you like about the baby, like names, weight, length, and date and time of birth. You can even choose a sweet graphic to include, and they can be painted to match the baby's room. For older children, a sign with just their name is often a special addition to their bedroom decor. We also have a selection of signs here with encouraging sayings, that also make unique gifts, which can be customized with colours and fonts. Or, you can design your own sign with special words from "your song", a popular phrase, a pledge or vow or even a private joke. The possibilities are endless!